You run a business and want the customers to visit your website and explore all your services or products to get maximum sales. The best way you can entice your visitors and turn them into customers is by having a great looking Premium WordPress Website Theme.
As they say, First Impression is the Last Impression – it may not be true in the real world but in the virtual world surely it is True. Visitors often spend more time on a website that they feel is rich, responsive, and offers seamless navigation.
A website that is visually pleasing and has the perfect combination of font and colors is the one that is most liked by the visitors. Now to make the website look aesthetically pleasing in WordPress you need to depend on WordPress Themes and coding skills.
You can design a perfect looking website if you have some knowledge of web design and have decent knowledge of HTML and CSS. If you are the one who do not want all the hassle and just want the work to be done with the help of some ready made themes then you are lucky.
Also Read: Do WordPress Website Security Plugins Really Work?
In WordPress, it is very simple to upload and install a pre-made theme, you just need to download the theme from its original source and install it on your WordPress website. Again, if you really want the website to look modern and beautiful we recommend purchasing a paid Premium WordPress Theme.
Why Choose Premium WordPress Themes over Free Themes?
There is no issue if your budget is low or can't afford to buy a paid theme for a website that will be low on visitor count or will be live for a short duration of time.
Whereas, If you are looking for a WordPress Theme for your online business and thinking of growing your small business into a giant multilingual site spanning for a larger and diverse audience then you must definitely think twice before downloading Free WordPress Themes and Purchase Premium WordPress Themes instead.
Now, Why Free WordPress Themes should be avoided? Free Themes are less looked upon by the developer most of the time the free WordPress Themes are originally based upon nulled themes from different developer and are modified for free download on the open internet.
This brings along a lot of risks firstly you are not aware whether the free themes are safe for use or not, what if suspicious code has been added to the theme that would leak crucial information, there will be no security/performance updates to the theme as most of the free themes are from unknown developers, you cannot fully customize the free theme as it has limited customization options and you also cannot change the copyright info as it may be hardcoded with the theme.
Why Premium WordPress Themes are the Best?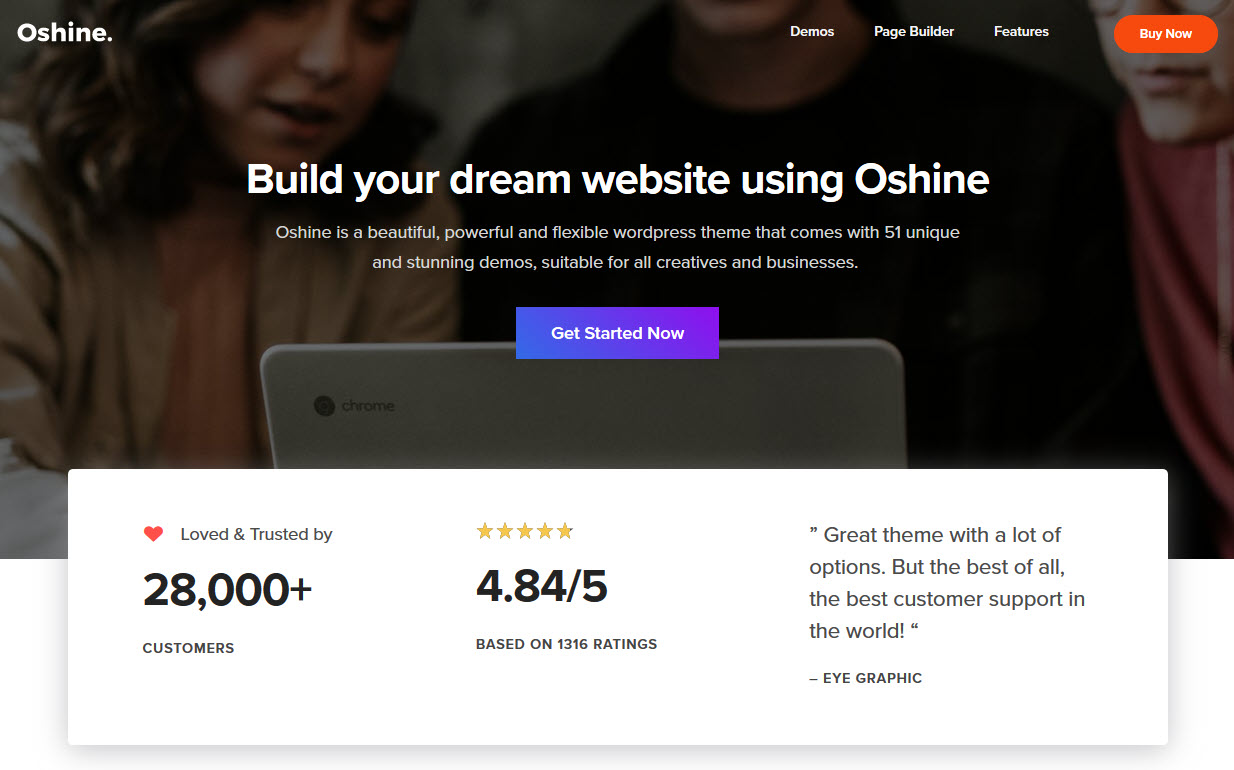 Premium WordPress Themes on the other hand are original and come from genuine companies built by a professional team of developers.
Also Read: This is how you can secure your WordPress Website from Attackers and Bots
This makes the Premium WordPress Themes more trustworthy as it has a legit source, for example, Official WordPress Themes Repository or Third Party Vendors like Theme Forest, etc., and you will receive regular security and performance updates from the seller/company.
Premium WordPress Themes offer numerous customization options and are best for the ones who are serious with their online business and want to upscale their business for a bigger audience.
Premium WordPress Themes like Oshine Creative WordPress Theme offers tons of customization options and comes from a trusted source. Oshine Theme is a powerful theme that modern businesses demand. It lets you build custom pages and headers that are unique to your website.
Oshine Creative WordPress Theme is creative in every sense. It has 50+ Pre Built Demos that are ready to use with just a click. If you are someone who likes Rich Themes then Oshine Theme will not disappoint you.
Oshine Theme is best suited for Portfolios, Freelancers, Businesses, Agencies, Shops, Photography, and anyone looking to create an Awesome Single Page Website.
View All the Demo Themes created with Oshine
Benefits of using Oshine Premium WordPress Theme
Oshine Theme has been downloaded by 30000+ Customers across the globe and the number is growing crazy fast. This was achieved by providing Quality Service and a Product that user would like to pay for.
Oshine WordPress Theme is the best bang for the buck when compared with the amount of features and quality service you will be receiving.
Also Read: Best WordPress Assessment Plugin for Creating Quality Assessment Tests
Following are some of the Oshine's Best Features:
Fully Responsive High-Quality Design for Rich User Experience
Powerful Tatsu Page Builder is clubbed with the Theme and can be used for creating Custom Web Pages
Highly Customizable with Custom CSS and Javascript from the Options Panel
One-Click Demo Installer for Quick Installation of the Demo Themes
Professional Customer Support for Better Query Resolution
Regular Updates and Bug Fixes are Promised!
Offer Superior Performance and the Theme is SEO Friendly
Colorhub and Typehub support for better typography
GDPR Compliant Design
WPML Compatible for Building Multilingual Sites
Visit the Oshine WordPress Theme website for more information